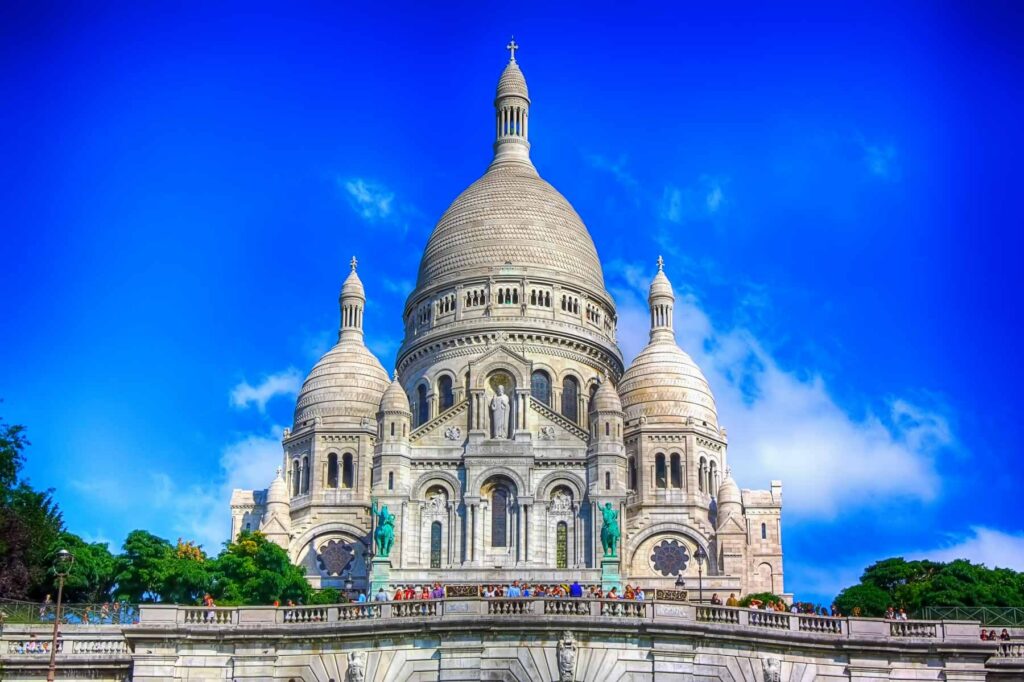 Perched atop the picturesque neighborhood of Montmartre, the Sacré-Cœur Basilica stands as a beacon of tranquility and spiritual solace in the heart of Paris. This magnificent basilica, with its striking architecture and breathtaking views, offers visitors a serene retreat from the bustling city below. Join us as we delve into the spiritual significance and enchanting beauty of the Sacré-Cœur Basilica.
A Testament of Faith
The Sacré-Cœur Basilica, meaning "Sacred Heart" in English, is a Roman Catholic church dedicated to the Sacred Heart of Jesus. Its construction was initiated in the late 19th century as a symbol of hope and healing following the turmoil of the Franco-Prussian War. Today, it stands as an enduring testament of faith, welcoming pilgrims and visitors from around the world.
Architectural Grandeur
As you approach the Sacré-Cœur Basilica, its striking white domes and intricate details command your attention. The Romano-Byzantine architectural style, with its ornate façade and grand entrance, evokes a sense of awe and reverence. Inside, the basilica's interior is adorned with stunning mosaics, stained glass windows, and intricate marble detailing, creating an atmosphere of ethereal beauty.
Sacré-Cœur Basilica: Awe-Inspiring Views
One of the highlights of visiting the Sacré-Cœur Basilica is the breathtaking panoramic view it offers from its terrace. Ascend the steps or take the funicular to the top of Montmartre and be rewarded with a sweeping vista of the city below. From here, you can admire iconic landmarks like the Eiffel Tower, the Seine River, and the sprawling Parisian landscape, providing a moment of reflection and appreciation.
A Place of Spiritual Retreat
Step inside the monument and immerse yourself in its peaceful ambiance. The soft glow of candlelight, the echoes of prayer, and the solemnity of the space invite contemplation and reflection. Take a moment to admire the stunning mosaic of Christ in the apse, a mesmerizing centerpiece that exudes serenity and grace.
While visiting the monument, don't forget to book your taxi through our online booking platform or via phone for a convenient and hassle-free journey to this spiritual haven. Our reliable taxi services ensure a smooth and peaceful visit to the Sacré-Cœur Basilica and other destinations in Paris.
Sacré-Cœur Basilica: Planning Your Visit
When planning your visit to the monument, keep in mind that it is a place of worship. Respectful attire is appreciated, and silence is observed inside the basilica. Take the time to explore the surrounding neighborhood of Montmartre, known for its artistic heritage and charming streets. Stroll through the Place du Tertre, visit the iconic Moulin Rouge. Discover the vibrant art scene that has long inspired creatives.
Whether you seek a moment of spirituality, of architectural marvel, or simply a serene retreat from the bustling city. The monument offers a sanctuary for the soul. Allow yourself to be captivated by its beauty, and tranquil atmosphere. Experience a profound connection to the spiritual heritage of Paris.
Official Website of the Sacré-Cœur Basilica – Sacré-Cœur Basilica Official Website